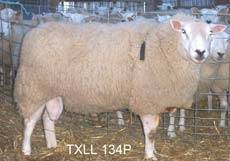 Steele 0134P
TXLL 0134P (CAN)593227, single
DOB April 14, 2004

Owners: OC Flock Management
Breeders: John and Eadie Steele
Email: Ileana@ocflock.com

Growth index: +2.15 Adj. 50 day weight: 61 lbs
Maternal index: +2.31 Adj. 100 day weight: 95 lbs
Scrapie Genotype: ARR/ARR
Current weight Jan 23, 2009 232lbs (105.5Kg)
The Flock of Origin:
Ontario Sheep Health Program
Levels 1 and 2, "A" status since 1998 4th year enrolled in Scrapie Flock Certification Program 150 ewe Texel flock is fully SFIP recorded and all Texel lambs are ultrasound scanned for loin eye and fat depth.
NOKOMAI
MEBA
MEBA B1029/93
S: STEELE 0035M
TEXEL PLUS A15/95
BLACKDALE
BLACKDALE B45

TEXEL PLUS
BLACKDALE A228/97
BLACKDALE B644/95
D: STEELE 0065M
BLACKDALE A139/94
BLACKDALE A295/95
BLACKDALE B449/94