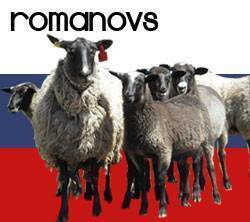 "Lambs by the Litter" The Romanov sheep are from the Voga Valley,
northwest of Moscow. Genetically unique to British and North American breeds of sheep, the Romanov (a "pure gene," not a "cross" of anything) used on traditional ewes will produce a "hybrid" - high performance ewe for the flock of the future and a top gaining market lamb. Quads, quintuplets and even sextuplets are normal performance for a Romanov ewe.
The North American record is seven live healthy lambs, the breed record is nine! Romanovs reach sexual maturity by the time they are 3 - 4 months old, they will breed any month of the year and combined with the agressiveness of the newborns allow for a very high production ewe. The most practical application of Romanov genetics is in the development of the ewe flock: crossbreeding to get the high performance 1/2 Romanov ewe, the "market lamb machine," who looks like a regular sheep, is tough and has multiple lambs which live to get to market. They are the "secret" to surviving in the sheep business!