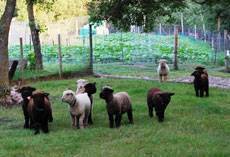 Southdowns were bred in the South Downs area of the UK from the late 18th century. Olde English "Babydoll" Southdowns are reported to be the original blood line of the English Southdowns brought to North America in 1803. They were very popular for their flavourful meat and fine fleece. With the advent of refrigeration and the desire for larger cuts of meat their numbers severely declined and the modern larger Southdown was developed. This divergence from the original breed standards was the beginning of what later became two distinct lines. In 1991 a US breeder, Robert Mock, established the first registry for the "Babydoll " Southdown after an exhaustive search produced 350 of the Southdown sheep with the original bloodlines, many still carrying their original Southdown registration papers recognized by the UK.

Today Babydolls have found their way back onto small farms and acreages as barnyard pets; 4-H projects; organic weeders and mowers in mature orchards and vineyards; meat producers for families wanting to raise their own lamb; and as wool producers for hand spinners. Their wool is dense, short stapled and fine with a micron count of 19 to 22 and their meat is tender and flavourful. Babydoll rams bred to larger crossbred ewes produce lambs that have incredible vigor at birth and are fast gaining feed efficient market lambs.

Purebred Babydolls can be registered with The Olde English Babydoll Registry or NABSSAR in North America.