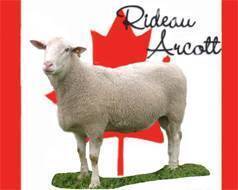 The Rideau Arcott was originally a research breed selected for their lambing rate. The Arcott breeding program began at Agriculture Canada's Animal Research Centre in Ottawa.
Finnish Landrace, Southdown, East Friesian, Suffolk, Leicester, North Country Cheviot, Romnelet, Dorset Horn, Shropshire and lle-de-France were the dominant animals used in the creation of the three Arcott breeds:
Canadian, Outaouasis and Rideau. By 1972, the introduction of new genetics to the bloodlines was stopped and the flock was quarantined for two years. In 1974 the flock was spilt into two groups and an accelerated lambing program was put in place. In 1980, a disease free Arcott flock was created and by 1982 all three Arcotts were recognized as distinct breeds.
The 8 month production cycle of the Rideau Arcott as weel as its propensity for having triplets, quickly caught the eye of Canadian sheep farmers.
The breed's genetic mix is 40% Finnish Landrace, 20% Suffolk, 14% East Friesian, 9% Shropshire and 8% Dorset Horn. The remanining 9% consists of Border Leicester, North Country Cheviot, Romnelet and Corriedale.