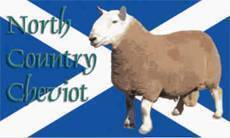 North Country Cheviots are a "hill breed" of sheep who evolved on the
rugged Scottish highlands. From necessity they learned to survive, and indeed thrive, unattended by man and find foot on the wild unimproved land. In these conditions the ewes usually lambed alone and the newborn lambs survived by their ability to get-up, nurse and run just minutes after their birth. The ewes
have a strong protective instinct toward their lambs, have plenty of milk and take extremely good care of them.
Cheviots are a rugged, determined breed of sheep who not only produce superior lambs but also a perfect handspinners' fleece. Their cross-breeding abilities are such that either using the rams or ewes will produce superior cross-bred lambs.
A mature ewe may weigh 180 lbs and a mature ram 300 lbs. The breed is easily
recognizable by their "alert" ears. Springhill