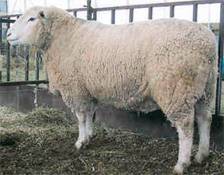 MRFA 530L
CANADIAN ARCOTT, MRFA 530L, TWIN
DOB: MARCH 17, 2001
SOLD OUT
Booroola Genotype BB
Dam: MEDICINE RIDGE 521G
Sire: MEDICINE RIDGE 516J
SCRAPIE GENOTYPE: ARR/ARR VERY RESISTANT
SEMEN ELIGIBILITY: USA & MEXICO
Owners: Ian & Deb Clark
Medicine Ridge Farm, Bentley AB
email: iandebc@telus.net
website: www.medicineridgefarm.com

MRFA 530L was an outstanding lamb from the start. He and his twin sister were born outside, unassisted and grew very rapidly due to the excellent mothering and milking ability of their dam. After weaning at approx. 40 days, he continued to demonstrate extreme growth and was actually 65kgs (143lbs) at 106 days. His estimated adult weight is over 160kgs (350lbs). Physically he is correct, with excellent feet, legs, teeth and general conformation. As with most Canadians, the muscling and length in the loin is noteworthy. His hindquarters (gigots) are very well developed.